B2SP WH Concert Series

B2SP comes with everything a pianist needs.

KORG B2SP WH Concert Series w/ Stand & 3 Pedal Unit - This set packages the B2 digital piano with an easily assembled stand and a three-pedal unit that gives you the experience of playing a real grand piano. This model includes everything you need to enjoy playing the piano seriously.
---
Elegantly designed dedicated stand.
A dedicated stand that matches the color of the B2 is included. Two horizontal boards act as beams to securely join both legs. The elegant design conceals the player's feet and has the look of a refined upright piano.
---
Three-pedal unit attaches to the stand.
The B2SP comes with a three-pedal unit. This pedal unit attaches easily to the included stand, so that you can focus on playing in comfort.
---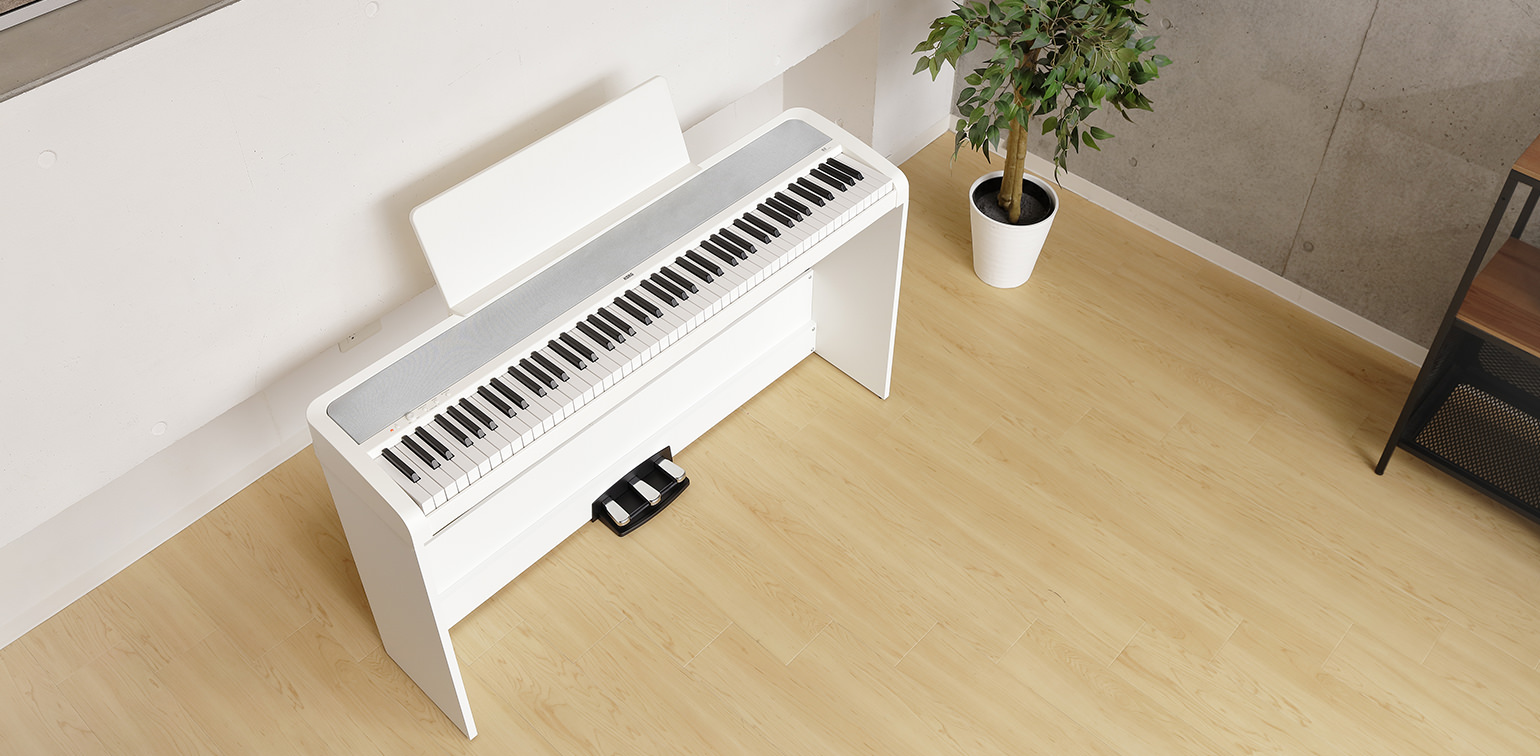 KORG B2SP WH Concert Series w/ Stand & 3 Pedal Unit
Color Variations:
White
Keyboard:
88 key (A0–C8), NH (Natural Weighted Hammer Action) Keyboard
Pedals:
Damper*, Soft*, Sostenuto / * Half-pedaling supported
Dimensions (W x D x H):
1,312 x 336 x 750 mm / 51.65" x 13.23" x 29.53"
(including stand and projections, excluding music stand)
Weight:
21 kg / 46.30 lbs. (including stand, excluding music stand)
Included Items:
AC adapter, Music stand
Accessories (Sold Separately):
PC 550-BK, PC 770-BK, PC 300-BK, JS-SB100-BK adjustable height benches
* All products names and specification names are trademarks or registered trademarks of their respective owners.
* Appearance and specifications of products are subject to change without notice.
Other functions and specifications are identical to the B2.
http://www.korg.ph/korg/index.php/products/view/210